By Lisa Smith, with Rosie Redstone

I found myself thinking of the importance of limts and boundaries throughout the day:
What is the importance of place and time for a recipe?
How does the way in which we record a recipe shape our experience of it?
What is the significance of constraint, either in terms of ingredients or method?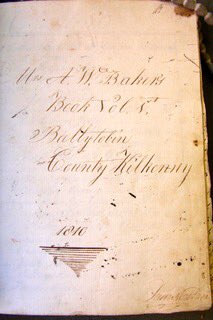 The theme of place came up in several presentations. Dorothy Cashman discussed the specific Irish and familial context for Mrs. Baker's book; it served as a family memorial in her widowhood and served as a microcosm of early nineteenth-century Dublin society. In an interview for the Endless Knot podcast, Laura Carlson (of The Feast podcast) considered the meaning of specific foods (and chickens) along the Camino de Santiago and the ways in which medieval recipes reflected Mediterranean trade. Over at H-Nutrition, several of the posts in their recipe series this week have looked at ethnicity: the Americanization of pasta in a 1920s cookbook, the ideal Central European meal, and a recipe that revealed the privations of the poor in Soviet Ukraine.
Recipes were, of course, on the move — between people and between regions. But sometimes a recipe's significance remains fixed in its original place. Mrs. Baker's book can be read alongside the family's archives, and emphasises just how connected the collection was to time and city, even if we encounter similar recipes elsewhere. But a recipe occasionally becomes something 'other', as Anastasia Lakhtikova found.  She realised how privileged her family was when she discovered another family's treasured, and quite horrible, recipe for 'Wonder Sand'. This recipe cannot be detached from the context of Soviet privation.
The way in which recipes are recorded can also shape our experience of them: are they in print, manuscript or digital? are they on recipe cards or scraps, or in a book? In an article in The Observer last weekend, Bee Wilson looked at the rise of digital recipes and whether more recipes mean better cooking. (Spoiler: no! But you should read the whole thing.) Digital recipes, she suggests, lack life and context, even if they are convenient. Although there are some super recipes in circulation, there is also far more dross than ever before. This is all very true, though perhaps it's not all bad — I've often been struck by the sense of community in the comment sections, where users assess the recipe, discuss any adaptations they made, and even connect it to their own family's life.
The physical object is often important to us, as well. The messier side of manuscript recipes is appealing, drawing us into a sense of intimacy, as with the crossings-out in a recipe that Sietske Fransen shared (above). The importance of presentation is something that came out in Wilson's article, too. Her son, she noted, trusted the shiny recipe cards of Hello Fresh as being authoritative, even though recipe cards and their exchange has fallen out of use in the past decade.
For their exhibition on food history, the Provincial Archives of Alberta is displaying old recipes in recipe card format. Recipe cards are pleasingly organised; no wonder they might be seen as authoritative.
As in the case of Wonder Sand, recipes sometimes reveal constraints. Ingredients are frequently substituted, whether because of seasonality, regionality, or cost. But are there other ways in which constraint might shape recipes? Format is one way. For example, recipe cards limit the writer to two small sides and enforcing brevity, while digital readers are notoriously fickle and tending to skim-read, which forces short statements and clearly marked ingredient amounts.
This month, the Cooking with Anger Project is available at The Recipes Project. It's an intriguing story-telling game in which you're given a list of 'ingredients' that must be mentioned in a (very) short story. I found the strictness difficult, and flicked through several baskets over several days before settling on one to try. (My attempt is in the comments, along with several much better ones.) But as good poetry shows, working within a tight framework can encourage creativity to flourish.
Siobhan Carlson's potato experiment continues. When I started writing this post, I was prepared to suggest that the boundary  between experiments and recipes might not be very permeable; after all, the purpose of a modern experiment is replicability–and she has been very careful with her timing and measurements this week. But perhaps even here, there is some scope for creativity, as she found last week when confronted with the problem of unclear instructions with regards to the size of potato cuttings.
An interesting day all around. You can check out the full day in Rosie Redstone's Storify of Day 5. It's worth it for the summer drinks and crocodile alone, even before getting to our interesting presentations!
---